Traffic Secrets
List building sites are one of my biggest traffic secrets. Just by using this one strategy, you can consistently build a list and income.
The key is to have the ability to mail to at least 2 different list-building sites each day, that way you are constantly sending out your offer and reaching more people.
Online list-building sites help you generate random leads or e-mail their lists in return for receiving mail from other members on their site.
Usually on these sites if you are a free member you need to earn credits by clicking credit links in other members' e-mails to you in order to send your message to other members. But if you choose to upgrade (especially by taking the one-time offers.. just one payment for a lifetime account), you will be able to send to a set amount of members every few days without having to work towards earning credits.
Before we begin I want to give you a suggestion to reduce e-mail in your personal e-mail account. I have two addresses that I use.. one is my personal e-mail address and one is my list e-mail address.
The reason why I have two is that I regularly check e-mail in my personal e-mail address but I expect to receive a lot of e-mail in my list e-mail address that is the email I won't be reading all the time.
This limits the amount of messages I receive or am forced to look at because I can simply just delete the messages in the account used for my list e-mail if I choose to. Also, when I'm earning credits I can simply login to my list e-mail account and I'll have all the e-mails to receive credit from.
What I would suggest before signing up under any Online List Building site is to signup to that site using an e-mail address that you will expect to receive a lot of mail.
To get a free e-mail account I would suggest Gmail as a great resource. They offer the highest storage amount and have no problem with blocking mails.. I do NOT recommend yahoo, msn, or many other free e-mail accounts.
It only takes 2 minutes to Join, it's FREE! and it builds Your Global List for You!! Every Pro Online Marketer knows, NO List = NO Money. So what are you waiting for? It's FREE! JOIN NOW!!
I have been a member of leadsleap.com and have always been impressed with all the values that it offers to its members, even for free members.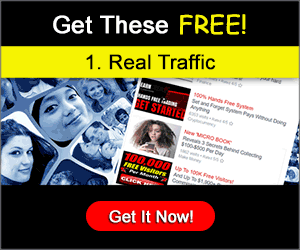 These are what I can do with LeadsLeap:
– Advertise free and get quality targeted traffic.
– Make money from its PPC program. (No website needed.)
– Write reviews and get SEO traffic. (Again, no website needed.)
– Use its link tracker to check if I'm getting real visitors or bot traffic. (This is my favourite.)
– Build my own list for free.
– Create stunning popups.
– And many more…
I'm having fun exploring its different tools. I am pretty sure that you will like them too.
Give this program a try. It's free anyway.